973-564-7673 Fax
"CLICK UNDERLINED ITEMS FOR LINK"
Its that time of year again, the 5th annual Beefsteak for MDA.
Contact Clint or Armando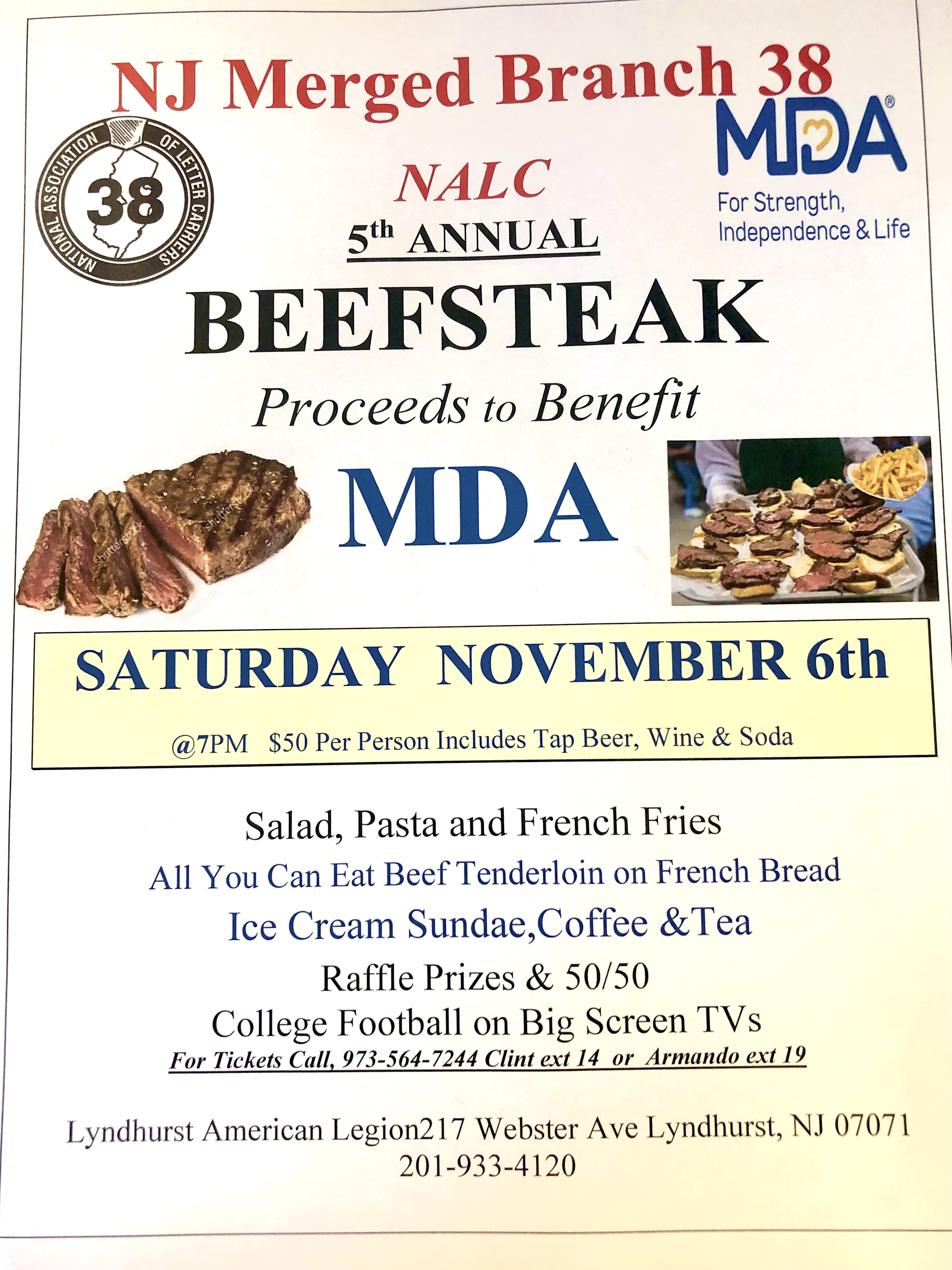 Branch 38's recent hero acknowledgement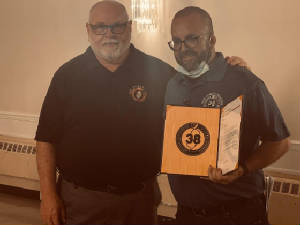 Pictured above is Branch 38 President Michael J O'Neill with Armando Pedreira. Armando is a Dover NJ Letter Carrier and Shop Steward. He also holds the position of Branch Trustee and Area Representative. On Monday, June 7th, 2021, Armando was sitting in his Postal vehicle, while on his lunch break. He wittnessed a logging truck crash into an SUV and flip over on Route 10 in Randolph Township. Armando rushed to the scene of the accident, along with a police officer who happened to be nearby. The police officer was attempting to assist the occupants of the SUV, and Armando offered help. The officer went to check on the driver of the truck, and Armando stayed with the family in the SUV. The family in the SUV were brazilian. Armando speaks Portuguese, and was able to communicate with the driver. The occupants of the SUV were brother and sister, ten and eight years of age, and their grandmother, the driver. Although injured herself, the grandmother was more concerned about the children. Armando saw that the little girl was concsious and alert, but could not see the boy, and assured the grandmother that the girl was alright. The father of the children arrived at the scene and removed the girl from the car. The father and Armando, with the help of others, then tore the door off the vehicle in order to get to the boy. The boy was unconsious and obviously injured. The father was finally able to lift the boy out of the car, and the boy regained consiousness. All three were taken to a nearby hospital for treatment. The grandmother was released later that evening. The young girl suffered injuries and is currently undergoing physical therapy. The boy's injuries were very serious, but he is expected to recover over time. There is no question that Armandos efforts were critical in saving the life of the young boy. Armando was very reluctant to share this experience with anyone, stating that he did not do anything anyone else would have done.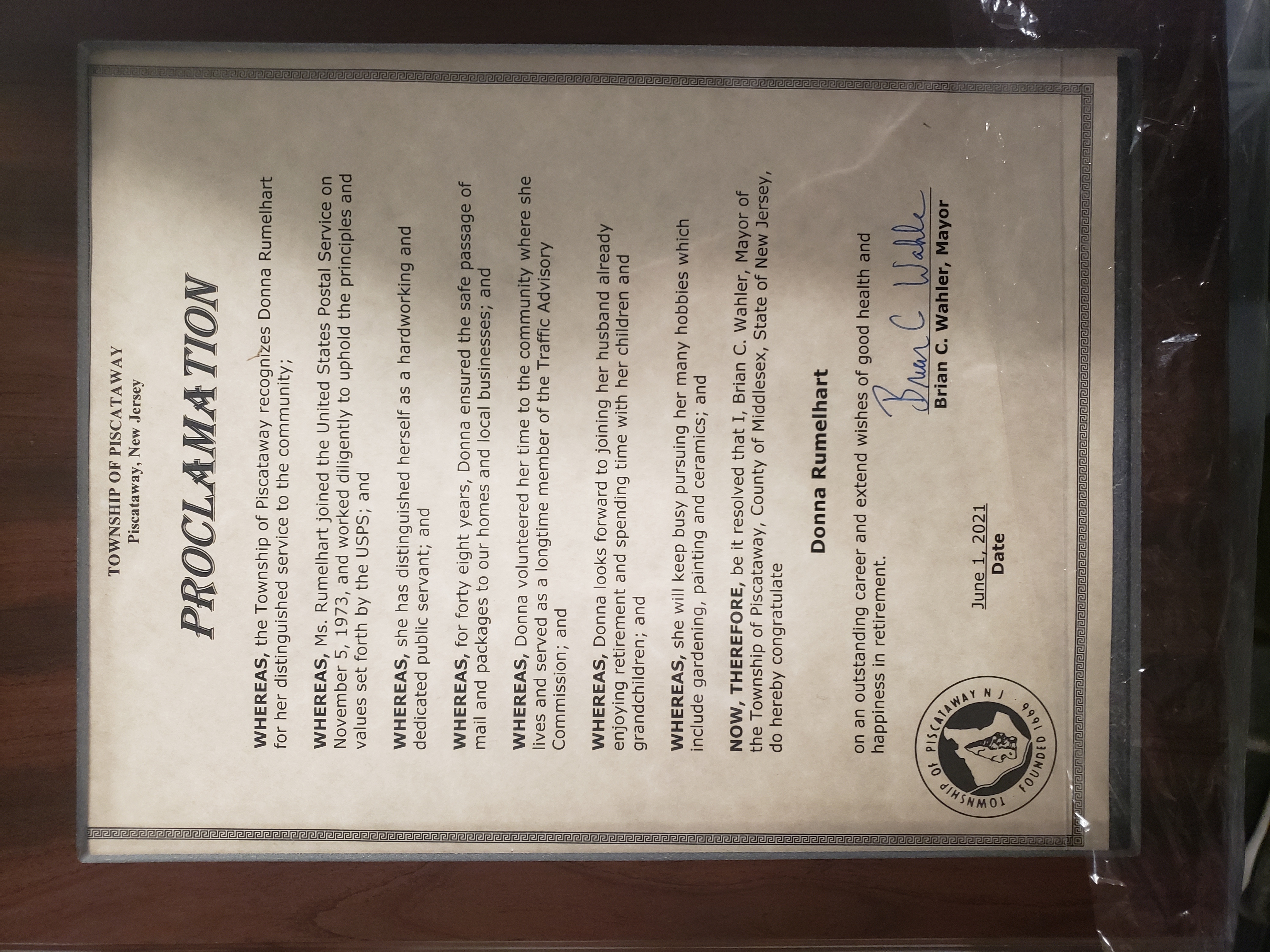 Congratulations to Letter Carrier Donna Rumelhart. Donna Retired after a 48 year career as a Letter Carrier at the Piscataway NJ Post Office. Please see our Retiree page for a letter of recognition.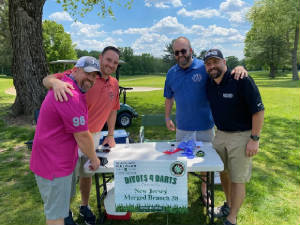 Pictured above are Pete and Marc Marchesani, Armando Pedreira and Joe Zammito. Marc Marchesani, owner of Black Jack Mulligans had a golf outing and invited Armando and Joe to sell MDA bracelets. They raised some $650.Great job to all.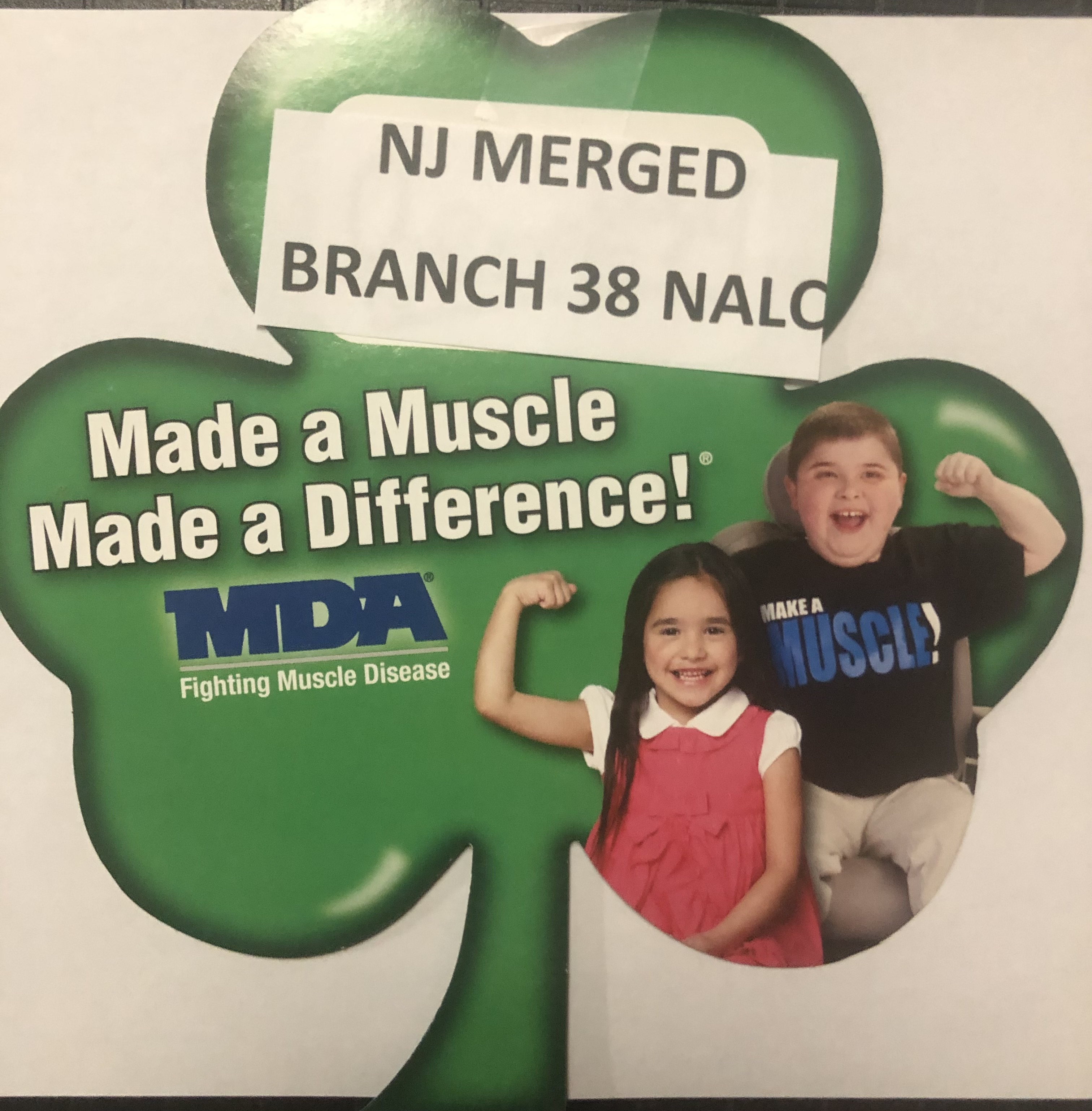 We at Branch 38 would like to extend a very huge acknowledgement to our Shop Stewards and Members for once again going above and beyond for this years Shamrock Campaign in honor of Bob Paccioetti.This year we raised an unbleivable $9,247.00 For MDA.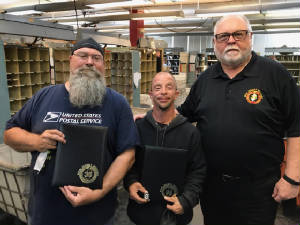 Earlier this year we noted the heroic actions of two of our Branch 38 Letter Carriers from the Parlin Post Office who saved the life of a women pinned underneath a car in the Office parking lot. On may 4th, 2021, Branch 38 President Michael O'Neill presented NALC Lapel Pins to Brothers Joe Hayes and Jim Nolan for their heroic acts.See our Heros page for more info.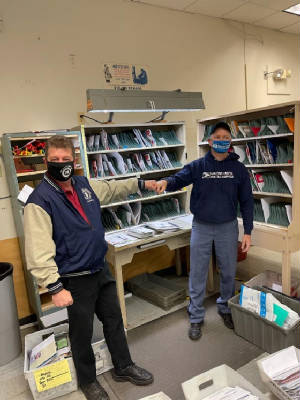 Pictured above is Oakland NJ Letter Carrier Bill Corbo and Area Rep Pete Bednarz. Bill was the lucky winner of the Branch 38 TV raffle for voting on the NALC Tentative Agreement. Congradulations Bill.
MDA
Branch 38 NALC would like to thank all of our members for keeping our branch at the top of the MDA list. Our members always go above and beyond for this wonderful cause.
Click Here for Postal Record MDA flipping pages.

Pictured above with Postmaster Silvia Glover and Branch 38 President Mike O'Neill are Newark NJ Letter Carriers Linda McNair, Crystal Murdock, Lisa Sharif, Kyle Butler, Henry Miller Jr, Timothy Melvin, Vincent Hayes, Jerome Alexander and Terence O'Neil. These carriers were recently presented with Million Mile Awards for going accident free on either walking or driving routes for over 30 years. Also receiving awards, but not pictured are Ruben Velasquez and Edward Fitz and also honored postumously were recently deceased carriers Hiram Gonzales and Thomas Boswell. Congratulations and thanks for your many years of dedicated service and for always putting safety first.

September 1st Branch 38 Membership Meeting is scheduled to be at the Woodbridge Elks at 7:30 pm.
Please Visit Our Retirees Page for Powerpoint Slides
Please help Branch 38 in helping MDA by purchasing a bracelet here
NALC/USPS Extend all memos through 09/30/2021 in regards to Covid-19
The NALC Veterans Group
Donate to MDA
*Please help Branch 38 in supporting MDA*
By clicking this link, you can donate to this great cause.
OWCP Claims for COVID-19
COVID - 19 NALC Headquarters