973-564-7673 Fax
"CLICK UNDERLINED ITEMS FOR LINK"
Above are links to FECA Claims and the OPM Letter to USPS Empoyees with new guidlines for EFEL Leave. These guidlines can be very confusing. Also, the EFEL Forms that must be filled out and turned in to your supervisor. Please retain copies for yourself. Please contact your Area Reps for guidence. Branch 38 would like to extend a congratulations to our 2021 Scholarship Winners Kaitlyn Hurley, daughter of Lincroft Letter Carrier Gerard Hurley won the Michael J. McTigue Scholarship
Mateo Picconi, son of Lakewood Letter Carrier David Picconi won the Richard P. O'Connell Scholarship
Casey Raff, son of Jackson Letter Carrier Donna Raff won the Tony Massa Scholarship
Daziyan McCray, daughter of Rutherford Letter Carrier Tony McCray won the Gil Hampton Scholarship Once again, we congratulate all of the winners. Best of luck on your future endeavors.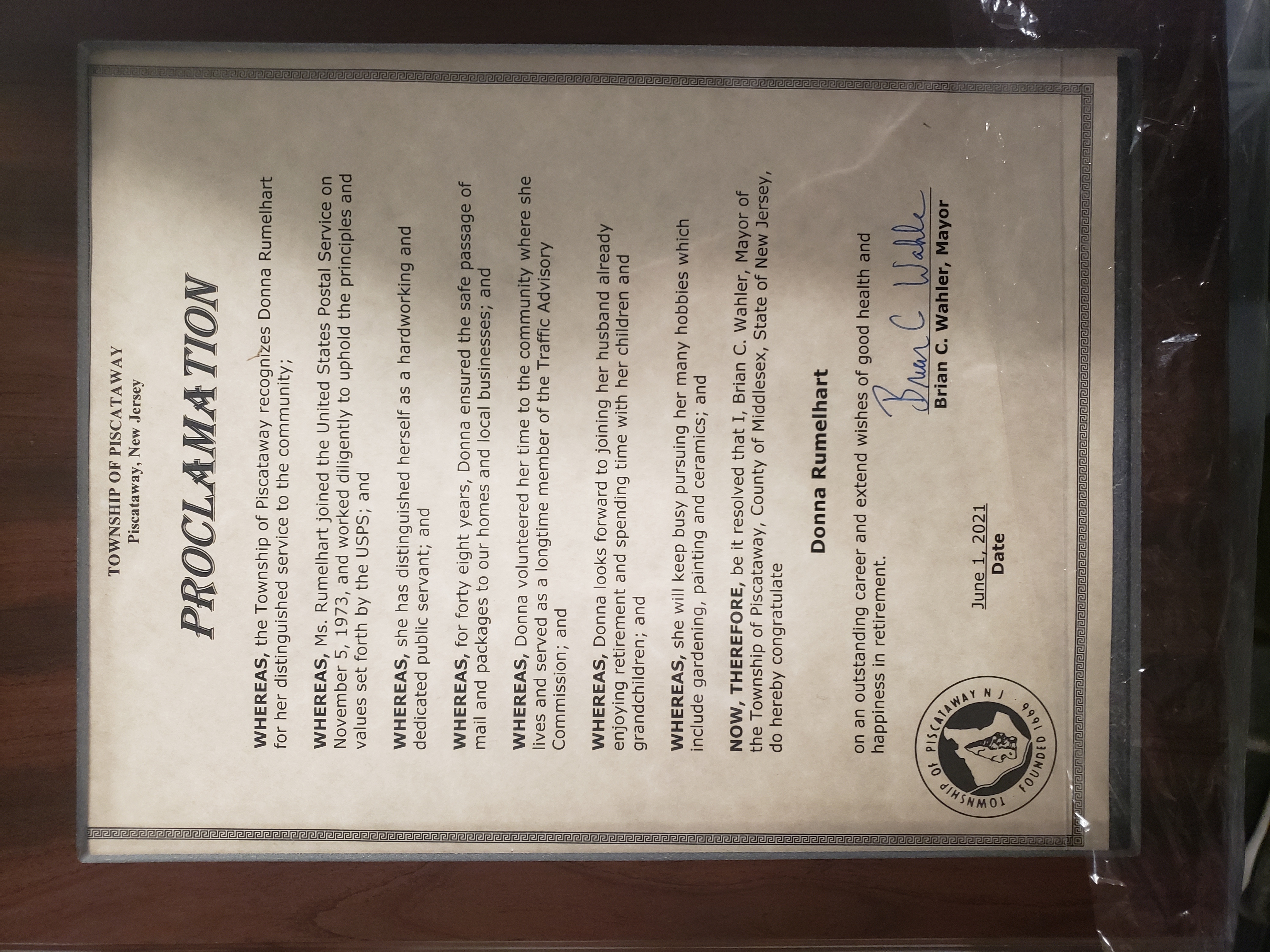 Congratulations to Letter Carrier Donna Rumelhart. Donna Retired after a 48 year career as a Letter Carrier at the Piscataway NJ Post Office. Please see our Retiree page for a letter of recognition.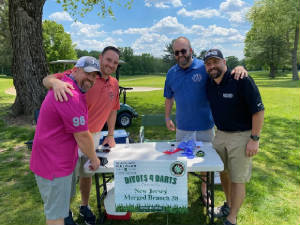 Pictured above are Pete and Marc Marchesani, Armando Pedreira and Joe Zammito. Marc Marchesani, owner of Black Jack Mulligans had a golf outing and invited Armando and Joe to sell MDA bracelets. They raised some $650.Great job to all.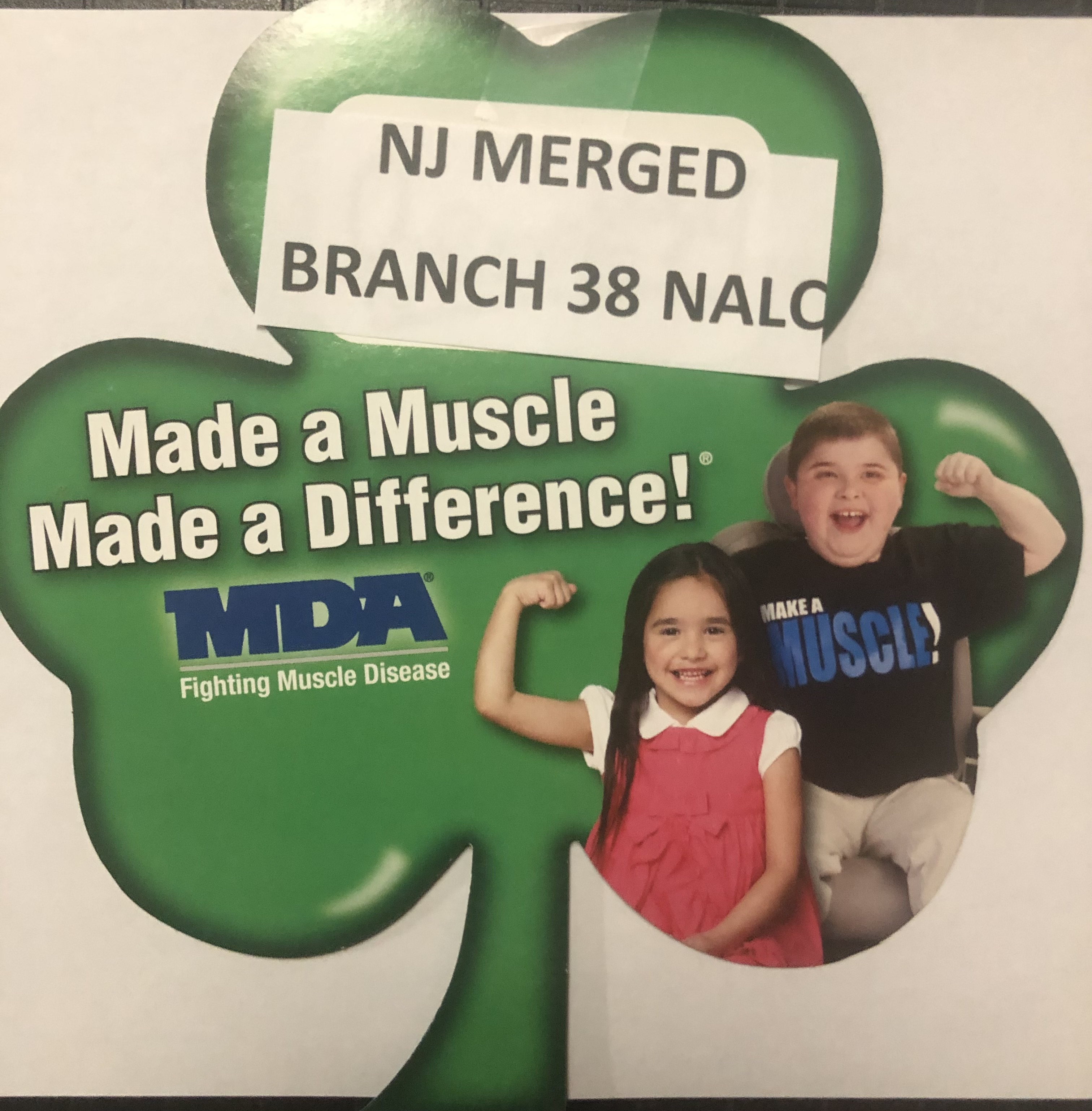 We at Branch 38 would like to extend a very huge acknowledgement to our Shop Stewards and Members for once again going above and beyond for this years Shamrock Campaign in honor of Bob Paccioetti.This year we raised an unbleivable $9,247.00 For MDA.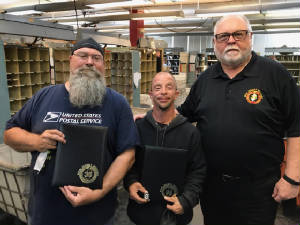 Earlier this year we noted the heroic actions of two of our Branch 38 Letter Carriers from the Parlin Post Office who saved the life of a women pinned underneath a car in the Office parking lot. On may 4th, 2021, Branch 38 President Michael O'Neill presented NALC Lapel Pins to Brothers Joe Hayes and Jim Nolan for their heroic acts.See our Heros page for more info.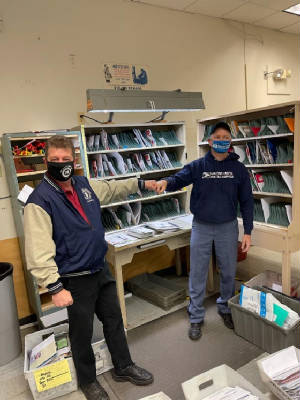 Pictured above is Oakland NJ Letter Carrier Bill Corbo and Area Rep Pete Bednarz. Bill was the lucky winner of the Branch 38 TV raffle for voting on the NALC Tentative Agreement. Congradulations Bill.
MDA
Branch 38 NALC would like to thank all of our members for keeping our branch at the top of the MDA list. Our members always go above and beyond for this wonderful cause.
Click Here for Postal Record MDA flipping pages.

Pictured above with Postmaster Silvia Glover and Branch 38 President Mike O'Neill are Newark NJ Letter Carriers Linda McNair, Crystal Murdock, Lisa Sharif, Kyle Butler, Henry Miller Jr, Timothy Melvin, Vincent Hayes, Jerome Alexander and Terence O'Neil. These carriers were recently presented with Million Mile Awards for going accident free on either walking or driving routes for over 30 years. Also receiving awards, but not pictured are Ruben Velasquez and Edward Fitz and also honored postumously were recently deceased carriers Hiram Gonzales and Thomas Boswell. Congratulations and thanks for your many years of dedicated service and for always putting safety first.

June 2nd
Branch 38 monthly membership meeting VIA Zoom
Shop Steward Training, Article 8 maximum hours, June 8th at 7:30PM. Via ZOOM
Please Visit Our Retirees Page for Powerpoint Slides
Please help Branch 38 in helping MDA by purchasing a bracelet here
NALC/USPS Extend all memos in regards to Covid-19
The NALC Veterans Group
Donate to MDA
*Please help Branch 38 in supporting MDA*
By clicking this link, you can donate to this great cause.
OWCP Claims for COVID-19
COVID - 19 NALC Headquarters